years serving Windsor-Essex
Windsor Cardiac Centre (WCC) is committed to helping patients improve their heart health and wellbeing through the delivery of personalized and professional cardiac care. 
Since opening in 2004, our centre has cared for over 100,000 patients across the Windsor-Essex county community.
Devoted to making services accessible to all, WCC employs a highly qualified, diverse, staff with the ability to speak and care for patients in over 9 languages.
We conduct a range of testing and diagnostic screening services using state-of-the-art technologies including: Wireless Heart Monitoring, Echocardiogram, ECG, Stress Echocardiogram and 24-hour Blood Pressure Monitoring. 
At Windsor Cardiac Centre, our patients are the number one priority.
Committed to high-quality healthcare
Accreditation Canada
Awarded for achieving a high level of performance while displaying a consistent quality of care and dedication to continuous improvement. To ensure ongoing quality, facilities must undergo a rigorous, on-site, review every 3 years.
Intersocietal Accreditation Commission
Awarded for demonstrating a commitment to quality patient care and a dedication to continuous improvement in echocardiography in compliance with international standards.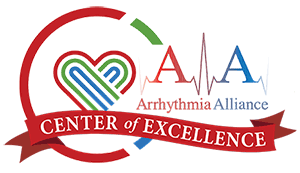 Arrhythmia Alliance
Awarded for the development of innovative approaches in diagnosis and treatment of cardiac arrhythmias. In conjunction with this achievement, Dr. Tarhuni has also been recognized as an SVT (supraventricular tachycardia) Healthcare Pioneer.
Why Accreditation Matters:
Accreditation is a voluntary assessment medical facilities participate in to assure the highest-level of quality and performance. Achieving and maintaining accreditation demonstrates a clear dedication to providing quality care and continuously improving patient outcomes and safety. 
Some of our Accomplishments
Established a Chest Pain Clinic to treat patients & help alleviate the burden on local hospitals
Received a Business Excellence Award for Innovation from the Windsor Essex Regional Chamber of Commerce
Recognized as a global 'Center of Excellence' by the Arrythymia Alliance. Dr. Tarhuni was also recognized as an SVT Healthcare Pioneer.
The first outpatient cardiac clinic in Canada to achieve IAC Accreditation
Achieved accreditation through Accreditation Canada (Exemplary Standing)
Recognized as a 2023 Syncope Healthcare Pioneer by the Arrhythmia Alliance